A 15-year-old will be in the U.S. Open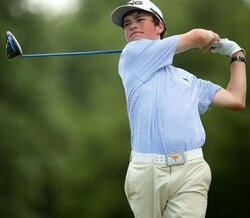 It's... HAMMER TIME!!!
It has happened again — a teen-ager has qualified for the U.S. Open Championship. This time, it is Houston-area resident Cole Hammer, who made it through a regional qualifier, then through the sectional qualifier at the
Northwood Club
in Dallas, where Julius Boros won the 1952 U.S. Open.
As Art Stricklin of
Golf Magazine
notes
, Hammer is 15 years, ten months, 20 days old — making him the third youngest ever to get into a U.S. Open. In the morning, Hammer shot a blistering 64 — just two off the course record — then carved out a 68 under oppressive 95° conditions in the afternoon.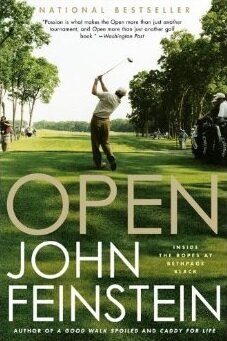 We hasten to point out that this is not the first time a teenager has qualified. In particular, we recall the story of then-16-year-old Derek Tolan of Colorado, who qualified for the 2002 U.S. Open at Bethpage Black. John Feinstein detailed the remarkable adventure
in his book Open
(at right) — and if you haven't read this book, we highly recommend that you do. Your correspondent has read it at least three times and it is still as entertaining now as it was when it was released in 2003.
Hammer had this to say after punching his ticket to Chambers Bay, as quoted by Stricklin:
"I never dreamed I could do it. This means the world to me. When I saw Jordan [Spieth] win the Masters (at age 21), I said, alright I can do this.

"I've never been to a U.S. Open before, I was just hoping to make the U.S. Junior later this summer. We didn't have any plans for that weekend, but I guess we do now."
Bravo, Cole. Bravo.
Have you seen an interesting golf story? Tell us about it!
Image via Twitter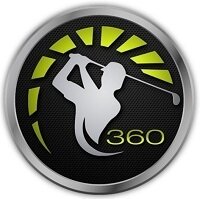 bkuehn1952 says:
As good as the kid is, let's see how he handles the big dance.
6/9/15
GBOGEY says:
Maybe its my crabby side, but I think kids like this would be better off trying to win big amateur events, not wasting an open spot.
6/10/15

bkuehn1952 says:
I agree with GBOGEY. The kid may find life frustrating after achieving so much so early. The now 29 year old Derek Tolan is not exactly a household name.
6/10/15
jasonfish11 says:
GBogey. Do you think Tiger would have shot 64-68 in that sectional?
If not should Tiger WD because he is "wasting an open spot"?
6/10/15