Ping - G15
---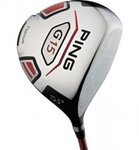 G15
-
Ping
The G15 was designed for golfers seeking maximum forgiveness, distance, and accuracy. Its elongated titanium head features an external sole weight, which positions the CG for higher trajectory and reduced spin. A larger face is designed to optimize ball speed and provide consistency across the entire hitting surface.
LOFTS: 9°, 10.5°, 12°, 13.5°
OFFSET: None
LIE: 58°
HEAD WEIGHT: 202 g
SWING-WEIGHT: D3
Add To My Bag
heasanta
- 9/14/22
aesthetically pleasing and doesn't setup closed like many game improvement drivers. Better than the G10 is the darker graphic on the top of the head. longer and straighter than the G10.
backrooms game
marialee
- 1/10/22
Yeah! I think good!
cookie clicker
free
Arch451
- 1/6/22
Golf is what you make of it. It can be a social activity, or a competitive sport that helps define who you are as both a competitor and individual who also get
best essay writing service uk
online for assistance. With G15s game-improving performance technology, you can focus on improvement rather than mechanics, and get better faster.
Davepm888
- 4/29/12
Just tried the g15 today for a round. Amazing driver. For sure a step up from the g10 which I currently own. A little longer, a little higher and more forgiving. Less effort with greater results.
Daniel P.
- 4/12/12
Best driver i had the pleasure of playing.... at least 10 extra yards from my previous driver !!! bought it at golf town where i had multiple tries with various other drivers...This one always came out and extra 10 yards !!! it's great !
bwhatley
- 5/25/11
Best driver I've ever owned - and I've had a few. Great value too. Can't say I was ever a Ping man and looked at quite a few others before having had several driver fittings I bought this one. The readouts on the trackman did'nt lie. It's long and consistent.
TallHacker
- 8/15/10
Pleasing to the eye, doesn't setup closed like a lot of game improvement drivers. The darker graphic on the top of the head is nicer than the G10. Straighter and longer than the G10 as well.
scottmcaliley166
- 7/25/10
The G-15 was a step back for me. I play the G-10 with great results. The G-15 was too light. Did not seem to carry the same energy through the shot as the G-10. On the other hand the larger head was a wee bit more forgiving on miss hits.
Number of Users: 1,245
Average Handicap: 13.3
Overall:
Value:
Look:
Performance: