TaylorMade - R11S
---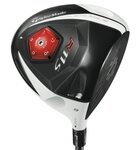 R11S
-
TaylorMade
The R11S is bigger, faster, and more adjustable than the original R11 driver. A 460-cc matte-white finished head is mated to a five-sided ASP plate, while the FCT sleeve permits loft adjustments to ±1.5º. Movable weights permit adjustment of the CG to promote a draw or neutral ball-flight.
Available in 9.0º, 10.5º, and 12.0º (RH only) lofts with D4 swingweight.
Add To My Bag
corsetonce
- 10/18/23
The TaylorMade R11S Driver is the best example of how TaylorMade consistently manages to make innovations in its designs. The R11S's clubhead only
snake io
differs marginally from the R11 in a few places. You can select from a number of shaft options with this excellent driver.
montanaroy4
- 8/11/23
winlator Emulator
stands as an innovative Android application that empowers users to execute Windows x64 and x86 applications on their Android devices, leveraging the capabilities of Wine and Box86/Box64 technologies.
jamesperales
- 8/9/23
The quality of the games
https://stephbond.com/
available on Play Aristocrat Pokies Online is truly exceptional. Aristocrat, a renowned game developer, is well-known for its innovative and captivating pokies. The titles on this platform boast stunning graphics, immersive sound effects, and engaging gameplay that keeps players entertained for hours on end. From classic fruit machines to modern video slots, there's something to cater to every type of player's preference.
cameldisaster
- 6/18/23
It's nice to be able to access the information of detailed electronic products
free games
peterkyle321
- 5/19/23
Military auto transport is a valuable service that can make a move much more manageable for military members and their families. By choosing a reputable company with experience and good customer service, you can ensure a safe and stress-free transport of your vehicle.
Vermont Auto Transport
LouisaOlwen
- 12/26/22
Thanks for sharing, download free ringtones at
klingeltone-kostenlos.de
Watson54
- 12/20/22
TaylorMade-R11S irons are an excellent choice for anyone who wants to improve their game. The R11S has all the features you need and none that you don't. It has a forged clubhead and is made with a titanium face, which helps give it exceptional forgiveness and distance. You should try this
eyeglass repair nassau county
for best reviews. The clubhead is also made from stronger materials than other irons on the market, which means it's going to last longer and be more forgiving when you make a mistake.
kalieus
- 12/1/22
Thank you very much for writing such an interesting article on this topic. This has really made me think and I hope to read more.
slither io
Number of Users: 954
Average Handicap: 13.3
Overall:
Value:
Look:
Performance: