Cobra - S2
---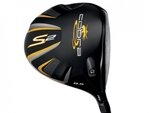 S2
-
Cobra
The Cobra S2 Driver has 9 Point Face Technology and Adjustable Flight Technology for forgiving performance with superior distance. That 9 Point Face Technology consists of a thin-milled rhombus face insert surrounded by an even thinner titanium perimeter that promotes increased ball speed across the clubface.
Add To My Bag
xaseped174
- 8/19/23
Your comments is treasured to Kohl's as they are searching to supply notable carrier to customers. If you currently shopped at Kohl's, you can share your treasured remarks with the corporation and share troubles you would possibly have faced. This survey helps the organization supply fantastic provider and grant a higher trip on your subsequent visit.
KohlsFeedback
isabella.jimnz89
- 7/26/23
Great review of the S2 driver! Really enjoyed its game-enhancing functionality and technology to increase range and accuracy of strokes. If you want to experience the excitement of a real game, check it out here https://casinoenlineahex.com/casinos-online/jackmillion/ we will compete together) it's a great way to relax if you don't want to leave the house.
jamesperales
- 6/20/23
Minimuzeum.com je jedním z nejlepších online kasin v ceštine. S rozsáhlou nabídkou her od významných výrobcu, jako jsou NetEnt a Microgaming, a s bezpecným a spolehlivým prostredím pro hraní, je to skvelé místo pro hráce, kterí hledají kvalitní online kasino
https://www.minimuzeum.com/
. Navíc nabízí širokou škálu platebních možností a profesionální zákaznickou podporu. Celkove je minimuzeum.com dobrou volbou pro každého, kdo hledá zábavu a šanci vyhrát velké peníze.
victorpatrick
- 6/13/23
Ok, thanks for the information and have a good day
pge outage map
pasanis
- 1/13/23
I think that way, all interest is lost. In fact, I started utilizing blockchain technology in other games. The
Blockchain Game Awards 2022 news
list includes a sizable number of top-notch games. Additionally, I'm about to discover how to generate money in reality and there are opportunities to do so in some way as well.
Watson54
- 9/22/22
Cobra is a great company to work for. I have been with them for over 3 years and have had many different experiences within the company. They have a great culture and treat their employees very well. In my current position I have been given many opportunities to grow and learn new things, which has helped me in my career development. Visit this
http://www.cyclingfever.com/video.html?detp=view&video_idd=MTUxMDk=
for best ideas. I love the fact that you can scan something with your phone and upload it to your account with just one click. It makes life so much easier when you're busy and want to add something quickly.
sherronmira
- 8/30/22
The Cobra S2 driver is the second model in a trio of new drivers from Cobra,
venge io
introducing what they call 'Smart Strike Technology'.
Keating
- 5/19/11
Love it, Love it, Love it!!!
Number of Users: 210
Average Handicap: 14.2
Overall:
Value:
Look:
Performance: