Titleist - 910 D3
---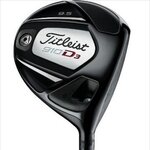 910 D3
-
Titleist
Titleist's 910 D3 driver includes a fast face insert that creates a ball-speed area that is 10% larger than other drivers. The patented SureFit Tour dual-angle hosel provides precise and independent loft and lie adjustments to fine tune ball flight for more accuracy and control. The 445-cc head is available in the following lofts:
7.5º (RH only), 8.5º, 9.5º, and 10.5º.
Add To My Bag
Watson54
- 11/15/22
I am a golf fanatic, but I have to admit that I am more of a Titleist guy. When I was growing up, my dad was the one who taught me how to play golf. My first set of clubs were Titleist irons and I still have them today. Try this
Local business marketing solutions
for best tips about marketing. The 910 D3 is a great club at an affordable price point. It is a sure shot with a great feel and good distance control. The ball comes off the face with some nice spin and it can go long distances with ease.
EstrellaWelch
- 10/6/22
This is the very first time that I've come across a post that was so helpful. I am indebted to you in the highest degree.
gartic phone
vivienjebert
- 5/27/22
This looks really great, I would love to try it, I'm usually someone who plays sports games, and these days I prefer to play
basketball legends
, I also really like the sport of basketball.
darrenbailey894
- 5/3/22
When I started whining my friend about inability to relax and free up my schedule at least a bit, he offered me to read online class help reviews. Perhaps it was one of few useful tips I have ever got from friends. Now I have two days off per week.
https://www.writingpapersucks.com/onlineclasshelp-com-review/
kledo57
- 1/25/22
Enjoy drifting &drivingawesome cars. Explore beautiful maps, find your favouritedriftlocations. Do experiments with car tuning. And join the
Drift Hunters
community.
linajulie
- 1/11/22
Amazing Product info.
Regards:
Cheap Flights
Alta Pinger
- 7/17/12
Automatic 270 to 280 in the fairway 90% of the time. Great feel and sound. There are longer out there but this one is sooo accurate.
Odinator
- 6/25/11
Simply amazing! In my opinion, better than the R 11
Number of Users: 929
Average Handicap: 9.1
Overall:
Value:
Look:
Performance: