Titleist - 913F
---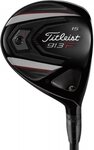 913F
-
Titleist
Introduced in late 2012, this fairway metal was designed for overall performance and long distance. The 913F includes Titleists's "SureFit Tour" hosel, which permits adjustment of the loft and lie independently. An interchangeable weight screw provides enhanced weight options.
13.5° and 15° MODELS: 160 cc, 56.5° lie°, 43".
17° MODEL: 140 cc, 57° lie, 42.5"
19° MODEL: 140 cc, 57.5° lie, 42"
21° MODEL: 140 cc, 58° lie, 41.5"
The standard women's shafts are -1 inch.
Add To My Bag
cekak
- 10/26/22
Nice! Good products will bring interesting games. The
black screen
helps you not to strain your eyes when using the screen for too long.
browns727
- 11/29/22
KINGSHURST
- 2/15/22
paulthomasreynolds
- 5/31/20
Johnfarmer
- 5/23/20
Justaman
- 10/5/19
giapet113
- 10/4/19
BrockLEvans
- 12/26/18
Number of Users: 427
Average Handicap: 10.7
Overall:
Value:
Look:
Performance: