Ping - G15
---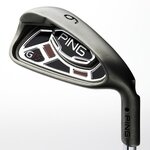 G15
-
Ping
The G15 irons feature a wide sole, which provides a CG lower and toward the back of the clubhead for high launch-angle, higher fall trajectory, and maximum forgiveness. The floating "Custom Tuning Port" expands the perimeter weighting and moment of inertia, while allowing a more consistent swing-weight across the set.
Add To My Bag
gebabok101
- 11/14/23
Hey SkyGolf community, I've been browsing through the insightful comments on the G15_5748 iron thread, and I thought I'd share a fantastic resource for golf enthusiasts. If you're looking to elevate your golfing content or simply appreciate high-quality visuals, check out Depositphotos. They offer a diverse collection of golf-related photos that can add a touch of elegance to your golfing experiences. Explore their golf photo collection at Depositphotos Golf Collection and discover a world of stunning
images images
that capture the essence of the game. Whether you're a seasoned player or just getting started, a picture is worth a thousand words, and Depositphotos has them in abundance. Feel free to share your thoughts, and let me know if you find any gems that resonate with your golfing passion!
SamaWemys
- 11/14/23
Golf equipment has truly elevated my game, providing precision and power with every swing. The advanced technology and design innovations in modern golf clubs and balls make each round a thrilling experience. From forgiving drivers to responsive irons, these tools not only enhance performance but also amplify the joy of the game. With cutting-edge materials and meticulous craftsmanship, today's golf equipment empowers players to reach new heights and enjoy the sport to its fullest. It's a game-changer on the fairway, transforming every shot into a moment of excellence. Cheers to the evolution of golf equipment!
rschultz99
- 9/5/11
So far, I played six rounds with new G15 and my game is getting worst. Beginning to think it was either a bad fitting or I should have looked at different brand
e.lambley
- 8/7/11
Simply the best game improvement irons, Ping have the very best custom fitting system in the world
Not for lower handicap players as not as easy to manufacture shots with them as i15 but you do get very acceptable results from off centre strikes
I find the ball flight high, this is encouraging to new players as getting the ball up is sometimes a problem
If you play off 15-28 then these will be an excellent club for you.
gordonwalker77825
- 7/13/11
Great clubs had them for over a year now.
Won a copmetition within the first six months after buying them.
shadow sqd
- 3/31/11
http://clubsg.skygolf.com/images/icons/16x16/w_star_grey.png
Played ten rounds with my new g15's.
The best was 82 on a course I had never
played before. The irons have a nice soft feel that translates to having better
control of my shots . They keepers
blackbird100
- 3/29/11
Changes from 3i to the G15, great club with more distance.
John Collinson
newitvick
- 3/11/19
Number of Users: 1,021
Average Handicap: 15.3
Overall:
Value:
Look:
Performance: