Scotty Cameron - Studio Select Newport 2
---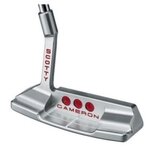 Studio Select Newport 2
-
Scotty Cameron
Introduced in 2008, the Studio Select Newport 2 features improved from subtle milling enhancements to its new sole profile, vice the design of the Studio Style Newport 2. "Cherry Dot" graphics, a CNC-milled 303 stainless steel head, and factory-interchangeable weights are the newest features.
HEAD: 360g, 350g, 340g
SWINGWEIGHT: C9-D1, D2-D4, D6-D8
OFFSET: Full-shaft
HOSEL: Plumber's neck
LENGTH: 33, 34, 35 inches
LOFT: 4°
LIE: 71°
Add To My Bag
Raleighkozey
- 10/2/23
When I am very eager to decipher a mysterious word but can't think of it, right now
wordle hint
can solve all difficult problems to help me find the mysterious word quickly.
johnmartin2860
- 7/13/23
The expression captured in a portrait can reveal a lot about the subject's personality. Portraits can evoke a
portrait zeichnen lassen
sense of nostalgia and provide a window into the past.
divids
- 6/16/23
Youtube Revanced APK
experience for users will always be cherished. It provided a sense of ease and accessibility for everyone on the platform. If you find yourself dissatisfied with the constraints and limitations of the original Instagram app, there's no need to worry. There are alternative options available to enhance your
Honista Instagram mod
usage and overcome any restrictions you may encounter.
peachesopinion
- 4/3/23
The Studio Select Newport 2 I recently acquired is a game-changer! The balance and feel of this putter are excellent
drive mad
. My putting has greatly improved as a result. Many thanks to Scotty Cameron for yet another superb creation!
patrickrall
- 1/3/23
I just got the Studio Select Newport 2 and it is a game changer! The feel and balance of this putter is outstanding. It has really improved my putting game. Thanks Scotty Cameron for another top-notch product!
Hornos robot cocina
williamsjohn
- 11/29/22
If you're looking for a high-quality, durable, and stylish camera, the Studio Select Newport 2 is a great option. This camera is made with professional photographers in mind, and it shows in its design and features. The body is made of sturdy magnesium alloy, and it's weather-sealed to protect against the elements. The sensor is a full-frame CMOS sensor with 24.3 megapixels, and it produces stunningly detailed images. The autofocus system is fast and accurate, making it easy to get great shots even in fast-paced situations. And the built-in Wi-Fi and GPS make it easy to keep your photos and videos safe and easy to share. If you're looking for a top-of-the-line camera, the Studio Select Newport 2 is a great option. And I am also going to buy this for
https://www.contentmajestic.com/
to capture special moments of our company.
kagawaminner87
- 9/27/22
My favorite club for quick greens is this one. Great performance and feel. The price is a downside, especially since I always need more than one. Moreover, you can also join
paper minecraft
if you don't have a cause you want.
Number of Users: 1,233
Average Handicap: 11.2
Overall:
Value:
Look:
Performance: