Scotty Cameron - Studio Select Newport 2
---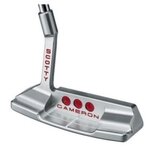 Studio Select Newport 2
-
Scotty Cameron
Introduced in 2008, the Studio Select Newport 2 features improved from subtle milling enhancements to its new sole profile, vice the design of the Studio Style Newport 2. "Cherry Dot" graphics, a CNC-milled 303 stainless steel head, and factory-interchangeable weights are the newest features.
HEAD: 360g, 350g, 340g
SWINGWEIGHT: C9-D1, D2-D4, D6-D8
OFFSET: Full-shaft
HOSEL: Plumber's neck
LENGTH: 33, 34, 35 inches
LOFT: 4°
LIE: 71°
Add To My Bag
patrickrall
- 1/3/23
I just got the Studio Select Newport 2 and it is a game changer! The feel and balance of this putter is outstanding. It has really improved my putting game. Thanks Scotty Cameron for another top-notch product!
Hornos robot cocina
williamsjohn
- 11/29/22
If you're looking for a high-quality, durable, and stylish camera, the Studio Select Newport 2 is a great option. This camera is made with professional photographers in mind, and it shows in its design and features. The body is made of sturdy magnesium alloy, and it's weather-sealed to protect against the elements. The sensor is a full-frame CMOS sensor with 24.3 megapixels, and it produces stunningly detailed images. The autofocus system is fast and accurate, making it easy to get great shots even in fast-paced situations. And the built-in Wi-Fi and GPS make it easy to keep your photos and videos safe and easy to share. If you're looking for a top-of-the-line camera, the Studio Select Newport 2 is a great option. And I am also going to buy this for
https://www.contentmajestic.com/
to capture special moments of our company.
kagawaminner87
- 9/27/22
My favorite club for quick greens is this one. Great performance and feel. The price is a downside, especially since I always need more than one. Moreover, you can also join
paper minecraft
if you don't have a cause you want.
Carlson54
- 7/21/22
kinda sastified
https://smashkarts.co
WayneSpitzig
- 9/21/11
This is my go to club for fast greens. Exceptional feel and performance. Only knock is value, very expensive especially when I always have to have more than one. What can I say. Also gave a new one to my son and son-in-law for Christmas and they loved it. I had to give them a voucher because as usual Titleist is the slowest shipper on the planet. I ordered these two months in advance, got them in Feb - March.
Rjyeo
- 3/1/22
Victor Ovena
- 2/20/22
Number of Users: 1,233
Average Handicap: 11.2
Overall:
Value:
Look:
Performance: