Odyssey - Versa #7 White
---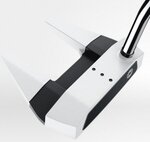 Versa #7 White
-
Odyssey
Introduced in January of 2013, this square-cutaway mallet features high-contrast white-black-white lines to highlight the face-angle throughout the stroke, with weighted alignment wings at the back and three contrasting alignment dots at the front. Odyssey's "White Hot" face insert is also included, in black for this model.
HEAD WEIGHT: 343 g
OFFSET: Full-shaft
HOSEL TYPE: Double-bend
LENGTHS: 33", 34", 35"
HAND: RH and LH
LIE: 70°
LOFT: 3°
Add To My Bag
Graynge66
- 8/13/16
Skipjack
- 3/26/16
colorfulworld
- 7/11/15
mccuney1
- 7/2/14
LabossJ
- 6/22/14
OnceaGJ
- 3/4/14
izbrod
- 9/22/13
jessflee
- 8/28/13
Number of Users: 28
Average Handicap: 16.6
Overall:
Value:
Look:
Performance: