Odyssey - Versa 90 2-Ball
---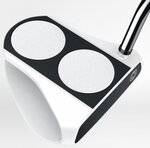 Versa 90 2-Ball
-
Odyssey
Introduced in January of 2013, this is an attention-grabbing take on Odyssey's famous 2-ball mallet, with high-contrast white-black-white lines to highlight the face-angle throughout the stroke. Odyssey's "White Hot" face insert is also included, in black for this model.
HEAD WEIGHT: 355 g
OFFSET: Full-shaft
HOSEL TYPE: Double-bend shaft
LENGTHS: 33", 34", 35"
HAND: RH only
LIE: 70°
LOFT: 3°
Add To My Bag
oaibokybo
- 10/13/16
station5174
- 1/11/16
craigerre
- 8/10/15
Pat Schneider
- 5/31/14
AJWhiteway
- 4/30/14
justincasepar72
- 4/11/14
miloking1994
- 4/3/14
graeme926
- 12/16/13
Number of Users: 36
Average Handicap: 13.4
Overall:
Value:
Look:
Performance: