SkyCaddie - Touch
---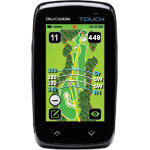 Touch
-
SkyCaddie
The SkyCaddie® TOUCH features a glove-friendly, easy-to-use touchscreen with Bluetooth connectivity to provide golfers with the ultimate user experience and convenience when coupled with a FREE Smartphone app. The TOUCH features a hi-resolution, sunlight readable, color display that amplifies the clear superiority of SkyCaddie's over 35,000 preloaded, HD maps compared to its competition.
Add To My Bag
connermullins3418060
- 8/11/22
Recently, I've become interested in this
slope 2 unblocked
game. It's a very exciting game. You can show how good you are at Slope 2 Unblocked by controlling a ball as it races down the slope.
sully51
- 10/5/17
The Touch is the best by far. have had no issues so far. I will always own a sky caddie
martin1956
- 10/5/17
Having had both an SG5 and an SGW before I was looking forward to the Touch when my SGW wore out.
IMHO it isn't anywhere near as good as its predecessors. Unless you have backlightiong set to 25% it uses about 2/3 of its battery on 18 holes.
I have had many issues with it getting stuck on holes as well.
Personally I would prefer the software from the SG5 put into the SGW box with its better display. You can keep all the tactile functionality as far as I am concerned. Sorry but that is my experience
raysherman
- 8/21/17
Battery life sucks. Dead by 18 holes.
Bill Blast
- 7/13/17
After being a member for all these years with the SGX, it looks like skycaddie is on borrowed times with me. The SGXw is full of issues. It goes dead by the 16th hole, takes several attempts to upload to cell phone. It appeared promising but ended being very disappointed. I would rather go back to the SGX.
RNGR987
- 5/6/16
I like it a lot. I had the SG5 and I was skeptical about moving up to the Touch. I had my SG5 for 7 years. The TOUCH takes a while to adjust to but I'm very happy with the move. It's a tad slower than the SG5 but not enough to slow me down. The different views are excellent and I especially like the HoleVue and Intelligreen. The screen touch takes a bit to get used to also but I calibrated it often and it seems to work great for me. I like the Bluetooth connection but to get all the updates you must still connect it to a computer once in awhile to get the latest updates. I connect at least once a week and it stays updated. The one improvement that could be added is better instructions on how to use it. The instructions cover the very basics to get started and with all the features offered I thought they were lacking in details. After 2 months of 3 to 4 rounds a week I have it nailed down and am very comfortable with it. The MARK ball option works very well and I like the ability to turn the screen clockwise/counter-clockwise and change the view without pushing buttons.
jw_Oxnard
- 9/13/15
Graphics w/yardage arcs are very helpful in making club & target selections. Screen refresh, particularly btwn scorecard screen advancing to next hole "eagle view" takes too long & too many screen touches. Fellow golfers commenting on my time management and delays in making club/target selection not only on tee box but also on the fairway. Using screen lock prevents/disrupts viewing of dynamic updates of yardage displayed. Would like to capture metrics on sand traps hits/recoveries. Yardage walked during round would be useful but currently not available.
jimhock
- 7/20/15
This is a poor excuse for a range finder. It is slow to turn on, the battery does not last a full 18 holes on most rounds, the top of the screen is partly covered, is very difficult to see distances to hazards, the screen is dark unless on 100% bright which uses up the battery, the screen is smaller than my sg5 and help line was unfriendly and refused a return at 65 days. They marketed it as a upgrade to my sg5 but it a downgrade. I offered to trade back even up for my sg5 but was refused. Afer my subscription runs out i will send it back as junk Bad company bad service jimhock
Number of Users: 1,114
Average Handicap: 13
Overall:
Value:
Look:
Performance: