Mizuno - MP-T4 Black Nickel
---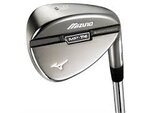 MP-T4 Black Nickel
-
Mizuno
These wedges are created from 1025E carbon steel using Mizuno's patented "Grain Flow Forging" process and features USGA-compliant "Quad Cut Grooves." Mizuno also uses a "DG Spinner" shaft designed to boost ball-spin.
Available in 50° to 60° lofts in 2° increments (Model # 210555).
These wedges are also available with a "white satin" finish in RH and LH.
Add To My Bag
PPSkyTrak
- 7/10/21
ghmac247
- 4/5/16
comanchecaptain
- 8/1/15
smoothswing1
- 3/26/15
brian1973
- 7/26/14
perryml
- 4/4/14
kejoal11
- 2/16/14
dieselracer13
- 1/3/14
Number of Users: 30
Average Handicap: 12
Overall:
Value:
Look:
Performance: